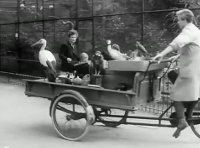 In 1962 Dutch cinema's golden child Bert Haanstra visited the zoo of Amsterdam, Artis, during a sun-filled period and filmed the visitors as they were laughing, yawning, scratching themselves, chatting and taking naps. Then he filmed animals doing the same thing and edited the result to contrast the two groups and perhaps to say "we are not that different, you and I".
The result seems comedic, making fun of the little people that are closer to the animals that they themselves seem to believe. The film itself is not too clear about which position its maker chooses. The editing and some of the videography is clearly done for comedic effect (ostriches' heads popping up, the walk of the penguin), but the powerful walk of the tiger and the jazz music by Pim Jacobs do not fit the label 'comedy'.
American broadcaster NPR seems to like the humane explanation the best:
Magically, [the film] makes the cages, the trenches, the walls disappear, and what you get is a real zoo — a mix-it-up porridge of animal life, where all the animals, the mischievous little boys, the oh-so-shy monkey, the proud baboon, the wide-eyed girl and the yawning lady trade moods, glances, worlds — our differences melt into little moments of us being like them, them being like us.
The name Artis was originally the zoo's nickname. It came from a text written over the gates, "Natura Artis Magistra" (meaning "Nature is the teacher of art"). You can watch the video on the NPR page or by buying the complete works DVD set.
Thanks Fred Yoder for the tip.
(Photo: screenshot of the documentary)