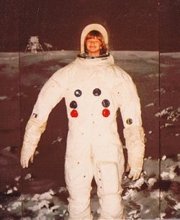 Last week The Netherlands-China Low Frequency Explorer (NCLE) that was hanging in space for over a year finally had its three antennas unfolded, while it settled in behind the moon. As well, the accompanying satellite, QueQiao, initially planned to be a communications satellite, was turned into a radio observatory.
The NCLE is the first Dutch-Chinese space observatory for radio astronomy. With these shorter antennas, the instrument is sensitive to signals from around 800 million years after the Big Bang. Once unfolded to their full length, they will be able to capture weak radio signals from a period just following the Big Bang, called the Dark Ages.
Marc Klein Wolt, Managing Director of the Radboud Radio Lab and leader of the Dutch team, Albert-Jan Boonstra of Astron as well as Heino Falcke of Radboud University are all thrilled in their own way about being able to perform their observations during the fourteen-day-long night behind the moon. "This is a unique demonstration of technology that paves the way for future radio instruments in space," Boonstra said.
(Link: phys.org)