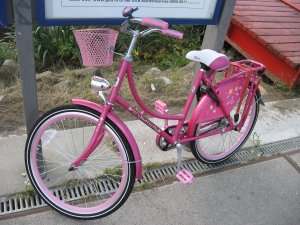 The town of Drimmelen, Noord-Brabant has built a one-kilometre long 'singing bike path' (an official traffic sign), encouraging people to sing on their bikes and hopefully continue singing when they see another cyclist rather than stop singing.
The idea came from artist Mapije de Wit, a former columnist for the Fietsersbond cyclists union. The special bike path was officially opened by city council member Jan-Willem Stoop for which local troubadour Rinus Rasenberg wrote a song, saying he got some of his best ideas while cycling. In 10 minutes of cycling you can belt out three hit songs or maybe one or two if you keep forgetting the words.
The bike path is a comfortable three metres in width and is part of a nice 17-kilometre network of paths around the town.
(Link: www.waarmaarraar.nl)