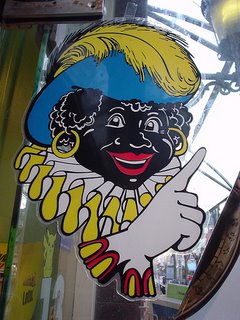 Last weekend the police in Utrecht used decoy men in blackface, so-called 'Zwarte Pieten' (Black Petes), to catch rowdy youths who had been taunting real Black Petes with their own candy.
Black Pete is Saint Nicholas' helper in the Netherlands. His face is black because he is the one who has to climb down the chimney to deliver gifts and bring back up carrots for the horse and any naughty children that he might find. Over the years, the image of Black Pete has made generic, taking the blackface look from the deeply racist USA and multiplying the number of Petes so that they became more like huge Smurfs. We've even got the Smurf etymology down pat, naming individual Petes for a single outstanding quality: Fix it Pete, Gift Pete, Horse Pete, and now even Bait Pete.
Usually it's Black Pete's prerogative to give nice children candy and to put bad children "in the bag" and take them back to Spain with him (where, as you all know, Saint Nicholas comes from), but I guess the concept of good children turning bad after getting candy was a little too much for the Utrecht Petes, so they called in the cops. Methinks the arrested 10 and 11-year-olds should have an excellent line of defence in court.
UPDATE: We are very aware that many Dutch folks now consider Zwarte Piet a racist stereotype.
(Link and photo: tobysterling.net, via trouw.nl)