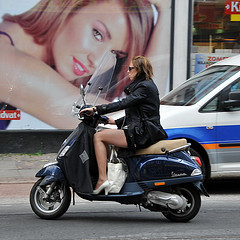 A German electric bicycle (aka e-bike), the blueLABEL cruiser (the pic is just a run-of-the-mill Vespa) can reach speeds of up to 45 km/h. Only a handful of them have been sold according to De Volkskrant newspaper, but they are popular, even with a price tag of 3,050 euro.
And although the blueLABEL cruiser is a fully functioning bicycle and looks like one too, Dutch law has problems classifying it as a bike, and apparently should have it down as either a moped ('snorfiets') or a scooter ('bromfiets') allowed to go up to 45 km/h.
If the blueLABEL cruiser is in fact a scooter, then you'd need a helmet, insurance and a different license plate (a blue one) to 'drive' it. If it's a moped, you'd need yet another license plate (a yellow one). And when it goes over 25 km/h, it has to be driven on the road, not on a bike path.
The clincher is, the blueLABEL cruiser looks just like an ordinary bike, making the cops' life difficult. In 2017 this type of bike, known as a 'speed pedelec' will be considered a scooter, which sounds about right. In the mean time, pricy German stealth bike it is.
Remember the Segway? That was a huge headache as well in the Netherlands.
(Link: www.volkskrant.nl, Photo by Facemepls, some rights reserved)