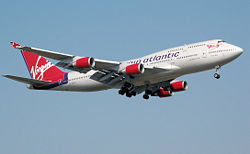 British airline Virgin Atlantic has recently started testing biofuel on a 747 flight to Amsterdam. The flight from Heathrow to Schiphol is part of an initiative to apply profitable, alternative biofuel in commercial aviation. The flights are done in collaboration with Boeing and motor manufacturer GE Aviation.
Virgin Atlantic claims that it is the first time a commercial aircraft flies on algae-based biofuel, a fuel that does not pose a threat to the food market or fresh water reserves. The goal of the test is to reduce the CO2 emissions level of the aviation sector. The plane flew without passengers.
The reason I am on about this is because while on the motorway last Sunday, a Virgin Atlantic 747 flew overhead, which it apparently never does. Now I know why it did.
(Link: luchtvaartnieuws.nl)
Tags: biofuel, Boeing, GE Aviation, Virgin Atlantic