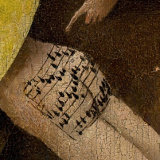 Tumblrer Chaoscontrolled123 decided to transcribe the music written across the buttocks of one of the characters in Hieronymus Bosch' famous painting The Garden of Earthly Delights. You can hear the results here.
Chaoscontrolled123 appears to be unimpressed by the tune but I see promise in it. Surely techno DJs or metal band Within Temptation should be able to do something with the melody?
Hieronymus Bosch was a mediaeval painter who was born and lived his entire life in 's-Hertogenbosch (hence the last name Bosch). The Garden of Earthly Delights is perhaps his most famous painting consisting of three panels, the right-most of which depicts hell. Our trouserless friend is part of a scene in which the sin of lust is depicted as music—Wikipedia says lust was considered the 'music of the flesh' in those days.
By the way, I don't know if any art historian ever noticed this, but there is a diptych in the right panel of the triptych. Huh-huh.
(Link: Trendbeheer; illustration Hieronymus Bosch)