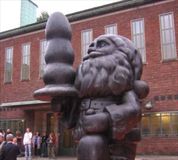 The controversial statue 'Santa Claus' by American artist Paul McCarthy (someone feel free to clean up the Wikipedia article) will most probably be placed on the Binnenwegplein in Rotterdam, near the Boijmans Van Beuningen museum.
The meter-high statue got people talking about it two years ago because the Santa Claus (Father Christmas) has a big Christmas tree that looks like a sex toy, commonly known as a buttplug. The city bought the statue for almost EUR 300,000 in 2001, but couldn't find a suitable place for it.
Funny enough, in 2003 the Tate Modern in Britain had no qualms about Paul McCarthy's work, neither did the city of Antwerp, but Dutch politicians did. Even the huge 24-meter Santa Claus installed outdoors in a park in Antwerp was entitled "Santa Claus with a Buttplug".
I thought you weren't supposed to buy things if you didn't know what to do with them, especially with tax payers' money.
(Link: De Pers)
Tags: buttplug, Christmas tree, Rotterdam, Santa Claus