Helmond based, legendary 1980s home computer composer Jeroen Tel teamed up with LMan (Markus Klein) in February to enter CSDK's "$11" Commodore 64 chiptune competition.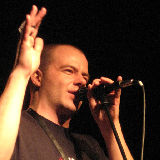 The code $11 does not refer to a dollar amount, but to the value used for selection of the waveform; composers were only allowed to use a triangle wave for this contest.
Tel and Klein elected to take the famous Skype ringtone as the basis for a 2 minutes and 39 seconds long song called Skypeople.
They entered a second song called $11 Heaven, notable for the absence of arpeggios, a type of chord extensively used in the heyday of home computers when these devices lacked sophisticated sound chips that would have allowed for the playing of polyphonic chords. At least the Commodore 64 with its advanced SID sound chip allowed for three notes to be played at once.
Skypeople and $11 Heaven netted the two composers the 1st and 3rd prize respectively.
See also: Chiptune pioneer Jeroen Tel took on the British gaming giants
(Photo by Staffan Vilcans, some rights reserved; video YouTube / HierGibtEsJedenSch****)