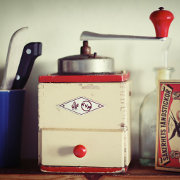 You know how when you learn something new or you have a bit of a fixation about something and you start to see it everywhere? Well, I've been listening to podcasts by Nerdrotic, which besides being a fabulous replacement for radio and having nothing to do with 24oranges (it's mainly about television shows and comics) occasionally plug Peet's Coffee, which I assumed was just another American coffee company from California with an alternative hipster spelling for Pete.
Except it's not: it's originally Dutch (Dutch-American). Editor of Het Financieele Dagblad Jasper Houtman wrote a book this year about coffee legend and founder of Peet's Coffee, Alfred Peet entitled The Coffee Visionary (In Dutch, 'De man die de wereld leerde koffie drinken', 'The man who taught the world how to drink coffee'). Someone who's not me really needs to update Peet's Wikipedia page.
At a time when most Americans drank coffee percolated from canned grounds, the son of a coffee roaster from a small town in the Netherlands [Alkmaar] laid the foundation for specialty coffee in the United States. When Alfred Peet opened Peet's Coffee, Tea & Spices in Berkeley, California in 1966, and started selling small batches of on-site, hand-roasted coffee beans, the renowned roastmaster had no way of knowing that he was brewing a coffee revolution and defining the coffee culture we know and love today.
Houtman is said to have twenty-five years of experience writing for magazines and newspapers in the Netherlands. Travelling through Guatemala and Honduras in 2004, he became interested in coffee, which led to a fascination for the story of Alfred Peet, who is relatively unknown in the Netherlands. Hope this helps a bit.
(Photo by Suzette Pauwels, some rights reserved)
Tags: Alkmaar, California, coffee, Zoek de Nederlander