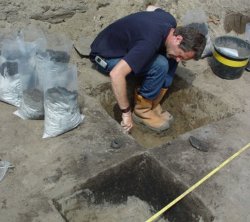 Archaeologists have found a cannonball from 1627 in Groenlo, Gelderland during an excavation along the A18
motorway. It weighs four kilos and dates back to the Eighty Years' War when the Dutch revolted against the Spanish King, Philip II. Experts know what year it is from because the Dutch army had established a siege line in Groenlo to reconquer the town from the Spanish.
Although pieces of pots and jewellery have also been found, this is the most interesting find so far. And the good news is the archaeologists have until May to uncover more exciting finds, as excavations are taking place in 10 locations along the A18 motorway.
(Link: omroepgelderland.nl, Photo: BOOR Rotterdam)