A computerised car sharing system from the 1970s was way ahead of its time and a product of the Dutch precursor of the hippie movement.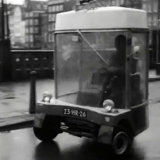 The video shown here from the Netherlands Institute for Sound and Vision contains a short news item about the Witkar (literally White Car) invented by famous provo Luud Schimmelpennink. Witkars were battery powered and available to members for a small price. A PDP-11 computer acted as a central control system and swipe cards gave you access to one of the two-seater Witkars. Their action radius was limited, making them suitable mostly for urban areas. Originally 1,000 vehicles were planned, but the project never got beyond the first 35 cars and 5 charging stations.
A problem that plagued the Witkar was that the battery drained quickly and had to be charged often. As a result not all of the Witkars were always available, as they were busy charging. Another issue with the Witkar was that some destinations were more popular than others. The project ran until 1986.
The Witkar was the product of one the White Plans, a series of plans by provos from Amsterdam that tried to improve daily for everybody. White Bicycles were a bike share project, White Housing promoted squatting, White Kids tried to tackle the daycare problem and so on.
A recent car sharing program called Car2go by Daimler (which had Witkar 2.0 as a working title) tries to prevent these problems by giving bonus minutes to people who actual bother to park the car at a charging station.
Somebody made an English translation of a part of the video.
(Photo: crop of the video)