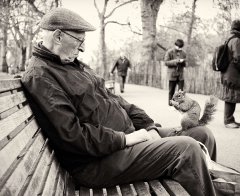 The Vigour cardigan is a collaboration between Pauline van Dongen, the TextielMuseum in Tillburg, and fellow PhD candidate at Eindhoven University of Technology, Martijn ten Bhömer. Van Dongen is also known for her long-lasting bioluminescent lamp.
Vigour has integrated stretch sensors that monitor upper body movement. The garment enables geriatric patients, physiotherapists and family to gain more insight into the exercises and progress of a patient's rehabilitation. The sensors collect data that is then sent to an application installed on a tablet, so it can be analysed to help provide feedback from professionals.
The video is in English.
Vigour from STS CRISP on Vimeo.
(Link: www.dezeen.com, Photo by Frank Mayne, some rights reserved)