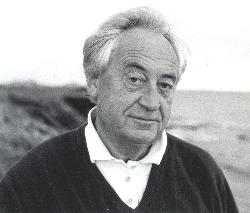 Cees Nooteboom is the very first Dutch writer to receive an honorary degree from a German university, the Free University in Berlin. He is one of the Netherlands' greatest authors, having won a string of literary awards and one day expected to win the Nobel Prize for literature.
Oddly enough, he is more popular in Germany where he is very much in demand. In the Netherlands, Nooteboom is a successful writer, but it is said that he will never become as popular in the Netherlands as he is in Germany where almost all his books are bestsellers. Nooteboom's German publisher Suhrkamp has just published his complete works in nine volumes, while the Bezige Bij publishing house in Amsterdam has no plans to do the same.
According to Radio Netherlands, the Dutch are more likely to name Harry Mulisch as being up for the Nobel Prize for Literature.
I can't help but say "No man is a prophet in his own country".
(Link: radionetherlands.nl)