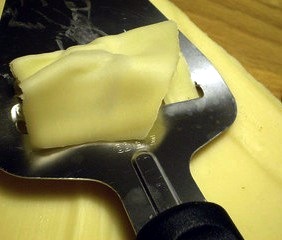 Last weekend thieves made off with what is being called the most expensive cheese slicer in the world worth 25,000 euro, made by Boska Holland. It was stolen out of the Amsterdam Cheese Museum and is studded with 220 diamonds, designed in 2007 by Argentine bling designer Rodrigo Otazu.
The cheese slicer was being showcased in a basement window that wasn't much of a match for the thieves. CCTV may provide a clue as to the persons that looted the shop.
However, it anyone helps catch the thieves, the generous Boska have a big cheese fondue set and some cheese for you. Yup, that's it.
Even though many people think the cheese slicer is Dutch (like the potato, tulips and Delft blue – none of which is Dutch), the cheese slicer is a Norwegian invention.
(Link: www.waarmaarraar.nl, Photo of Cheese slicer by The Akermarks, some rights reserved)
Tags: cheese, cheese slicer