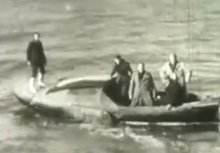 During World War II about 1,900 people fled Dutch territory to unoccupied lands, sometimes to be safe, sometimes to help the allies fight the Nazis. These people were called Engelandvaarders (England-goers), regardless of whether they actually went to England.
The New York Times blog has a story about five of them, students, who fled the country in a DIY motor boat after the Nazis required all students to sign a loyalty oath.
Their engine, commonly known at the time of its manufacture as the cast-iron wonder, was introduced in 1929, giving Chevy customers "a six for the price of a four," as the advertising slogan said. Displacing 194 cubic inches, it produced 46 horsepower at 2,600 r.p.m. Fuel consumption was 19 m.p.g.

The men bought the engine from a marina operator in western Holland, paying 700 Dutch guilders. Fitting it to their seven-meter launch required numerous modifications, including an underwater exhaust outlet to suppress noise. The driveline and propeller were clandestinely built.
The five made it to England safely—in the end they were picked up by the British navy.
One of the most famous Engelandvaarders was Leiden University student Erik Hazelhoff Roelfzema who was portrayed by Rutger Hauer in the Paul Verhoeven film Soldier of Orange, after Hazelhoff Roelfzema's autobiography.
(Source photo: a still from a video by Captain A.J. Hardy, now in the public domain)
Tags: boating, Chevrolet, resistance, WWII