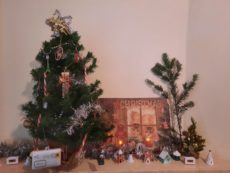 What a year! Who doesn't need a break? We really do.
As far as postings go, we had a tough time keeping up in general this year, but a lot stuff has been sorted to be able to post more regularly. We've upgraded a lot of things in the background.
It's Christmas day now, and the plan is to eat easy-to-make yet but nice Christmas food and watch a few Christmas classics.
Like every year, co-blogger Branko will come up with a list of his favourite stories of 2020, which should be online at some point.
If you need very different Christmas music, there's always our friends at Christmas a Go Go!
Happy Holidays from 24oranges HQ! Stay safe and stay sane!