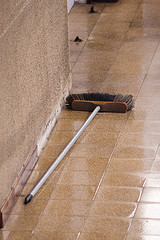 Cleaning women in Dutch private households have the worst working conditions of all of Europe, according to Marieke Koning of the International Trade Confederation in Brussels. However, I wonder if she means Europe or the European Union. In the Netherlands, it is normal to do cleaning work illegally and without insurance, as well as without any collective labour agreement or job protection. In short, the Dutch gladly exploit foreign women when it comes to having a clean home despite their good employment behaviour in other sectors.
While France, Spain, Germany and Belgium have cleaned up their act considerably, the Netherlands is a 'shameful example,' says Koning who believes that cleaning women have rights just like anybody else. The majority of cleaning ladies are migrant workers from outside Europe, a large part of which are illegally in the country.
Back in 2007 we told you about Hristina Tasheva, a Bulgarian woman who spent years cleaning people's houses in Amsterdam illegally and became a photographer.
(Link: www.volkskrant.nl, Photo of Broom on wet floor by Shyb, some rights reserved)
Tags: cleaning ladies