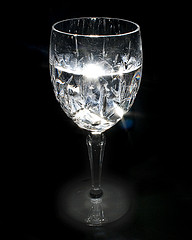 Rotterdam based Helmut Smits designed a device that turns Coca-Cola into water, called 'The Real Thing'.
"The installation developed with University of Amsterdam master's student Martien Würdemann uses a simple distillation process. The Coca-Cola is boiled in a container, producing water vapour that is funnelled into a glass. Minerals are added at the end to make sure it is safe to drink."
Originally conceived by Smits in 2006, the concept was turned into a complete distillation process for the Sense Nonsense exhibition at the Van Abbemuseum in Eindhoven, which opened in October during Dutch Design Week.
"When I looked at Coca-Cola that way, I saw dirty brown water, so it was logical to filter it back into clean drinking water, just as we do with all our waste water."
(Link: www.dezeen.com, Photo of Glass of water by Cayusa, some rights reserved)