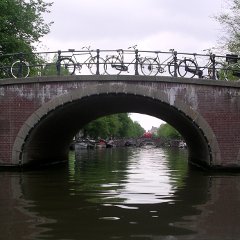 Amsterdam's city hall scored a major victory in the War on Fun today when Unesco added the city's historical centre to its World Heritage list.
The appointment fits right into the city government's fantasies of turning the city into Anton Pieck's wet dream. A group critical of—and therefore silenced by—the municipality, pointed to the damning example of staid Bruges in Belgium earlier.
Publicist Rogier van Kralingen told Radio Netherlands: "People don't visit Amsterdam just because it gives them a flavour of the past, but because it has a strong spirit of freedom. The city has an open-hearted, liberal feel to it. If a city wants to create a good environment for its residents and international businesses – which, let's face it, will have to provide most of our income – you need to maintain a healthy balance between tourism, recreation and people's freedom to do what they want."
It's not like the city and borough councils needed more ammunition: here's a list of things they have already outlawed. And what's keeping the Robert-Jasper Grootveld statue?
The Unesco decision makes downtown Amsterdam the seventh World Heritage site in the kingdom.
(Photo by Colleen Taugher, some rights reserved)
Tags: Amsterdam, canals, cities, conservatism, UNESCO, War on Fun