This map by Belgian citizen and inventor Jerôme Wenmaekers from 1876 shows his plans to reclaim the entire Zuiderzee, including the Wadden Sea.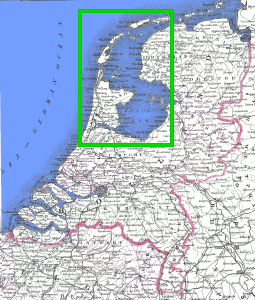 According to De Verdieping van Nederland, Wenmaekers plans required the use of his own dike building machines, but the inventor would not release the plans for those until he got the reclamation concession. On the other hand, the minister of public works would not approve the plan as long as he could not see how the machines worked. Both parties remained in that deadlock and in the end it was Cornelis Lely whose plans were used.
Lely's plan was much less ambitious, but still very ambitious—his Flevoland polder is the largest artificial island in the world by a wide margin.
The green inset in this second map from 1866 shows the area Wenmaekers wanted to reclaim. According to NRC, for 70 years (between 1850 and 1920) the Dutch discussed what to do with the country's 'wet heart', which led to at least 581 publications. One plan even called for the reclamation of the North Sea.
(Source: Nationaal Archief, via Martin Wisse)