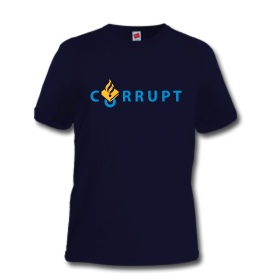 Two and a half years ago Dénis van Vliet was fined 170 euro for wearing a T-shirt that read 'corrupt', with the 'o' logo of the Dutch police. He fought the fine in court and the winner is… the police.
Van Vliet was stopped by two policemen who were offended by the T-shirt. Van Vliet's lawyer argued that there are many ways to intepret the T-shirt and that if the police are so easily offended, it goes to show how little power they actually exude. (The Dutch police 'just talk' to people who do 'bad things' and come off like nice old ladies scolding a puppy for peeing on the carpet.)
Oddly enough in a similar case, someone wore a T-shirt that read 'poep' ('shit'), with the police 'o' logo and the courts dismissed it.
In court, the lawyer pulled out a baseball cap and T-shirt worn by the bomb squad with the words 'kort lontje' ('short fuse'), saying that the cops can laugh at their own jokes, but not at other people's.
I'm waiting for a list of things we can and can't have on a T-shirt, so we can add that to the war on fun being waged in the Netherlands.
(Link: revu.nl, Photo shirtjes.nu)
Tags: court case, police, T-shirts