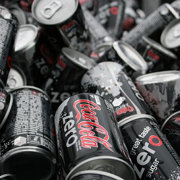 In a glorious display of bullying, barratry and plain old pettiness, the Dutch justice department has decided to take a littering case to the Supreme Court.
It started in October 2009 when a man was fined 120 euro for dropping an empty can on the Neringweg in Lelystad. Rather than paying the fine, the man decided to wait for the court case, which he lost. His lawyer appealed for two reasons, namely that the offence was too small to warrant such a heavy handed response from the state, and that the justice department failed to actually prove the man had broken the law.
The judge quite rightly ruled that it is the justice department's prerogative to pick its battles, but then awarded the case to the defendant. The local ordinance of Lelystad stipulates that litter needs to be put into a rubbish bin. The man successfully argued that the justice department had provided no proof that there were bins in the street (which there were, by the way).
Spokeswoman for the justice department Kiki Plugge said that the department wants to create clarity for municipalities: should they amend their ordinances? The question seems moot, as the justice department lost because they messed up, not because the ordinance is unclear. The spokeswoman then continued to say that "we do not want people to litter", which seems an odd thing to say. Of course the justice department gets to pick its own battles, but one would hope that it does not base its choices on its own, undoubtedly narrow minded tastes and interests.
Quite frankly I hope the justice department is taught a lesson on its obligation to perform due diligence, and on suspects' rights and due process.
Lelystad is a young city of 70,000 souls, built in a place where in the 1950s, a sailor would only be able to see the sea around him. The Dutch Supreme Court doesn't perform trials. Instead, it only checks to see if the law has been applied correctly given the facts of the case.
(Link: De Pers. Photo by Jos Faber, some rights reserved)
Tags: court cases, Dutch supreme court, Lelystad, littering, municipalities, ordinances