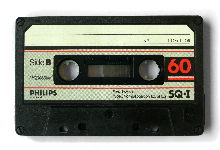 Dutchman Wisse Beets bought a second-hand car to go on holiday, and bought some tapes [aka compact cassettes or cassettes for the tape player in the car. To his delight, one of the tapes he bought had an elderly woman's poetry from the 1980s on it about the Jordaan district of Amsterdam, and now Beets wants to know more about Coby, the voice on the tape.
Coby was probably born in 1926, making her about 93 today, as she says he was 14 when WWII broke out. Since the tape was bought for 0,10 euro in a second-hand shop, she's most probably deceased and her stuff was brought there to be sold. She tells of her life in the Jordaan and of the cafes she frequented in an honest and beautiful manner that Beets couldn't ignore. He decided to go to many of the cafes she mentioned to find anybody who might know who she is, but could not find anybody who knew who the mysterious Coby.
Then Coby went down to famous Jordaan cafe De Rooie Nelis which has been around since 1937 and where owner Sien and her husband Gerrit recognised Coby and called her 'Kleine Coby' ('Little Coby'), claiming that she is in fact deceased. Sien mentions a few anecdotes like the men in her life, including the fact that she has two sons that could still be around.
The film is in Dutch, which is why we wrote about it in English. I've talked and drank with Sien, she is the queen of the Jordaan bar none.
(Link: at5.nl)