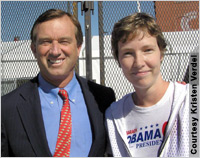 Thirty-year-old Kirsten Verdel of Rotterdam (seen here with Robert F. Kennedy Jr.) currently works at the Democratic National Committee (DNC) headquarters in the research department, helping with campaign strategy for Barack Obama.
"I'm not allowed to vote here, so what I'm doing is the next best thing," Verdel said. "It's a way to be involved, and that's important because what happens in the U.S. directly impacts not just people in America, but people around the world, and not just world markets, but global policy."
Verdel has effected change in her own country as a member of the Dutch Labour Party (Partij van de Arbeid, or PvdA). She served as an elected member of the provincial parliament in South Holland and worked as a policy analyst for the Dutch Ministry of Internal Affairs. As a campaign manager in six elections in the Netherlands, she most recently helped secure the Senate-level election of a former Dutch minister.
Amazed by the financial and human capital involved in the 2008 presidential election, Verdel said in the Netherlands, all political parties combined spend the equivalent of $35 million for a national campaign. In America, one party can spend that sum in less than a week.
"Endorsing a candidate in the Netherlands would be like saying, 'We're not objective, we pick sides,'" she said. The role of Dutch newspapers "is not to endorse any position, but to write about it."
Read the entire story here.
(Link: america.gov, photo: Kirsten Verdel. Thanks to the author Victoria Colette Reynolds for the tip!)