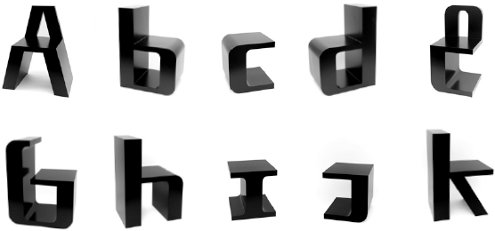 Designer Roeland Otten hopes to mass-market these alphabet chairs, writes Bright. He can see them being used by elementary schools.
The so-called ABChairs were made possible thanks to a grant by Fonds BKVB, the rich government sugar daddy for the visual arts. Otten, a 1999 Design Academy Eindhoven graduate, calls the Naked Alphabet by his teacher Anthon Beeke an inspiration. He is looking for a manufacturer to help him mass produce the chairs in plastic.
Unfortunately Otten uses one of them newfangled and unlinkable Flash sites instead of a real website, I would have linked to his work earlier if he had not. If you go there, see under "recent stuff / transformatie-transformatorhuisje" how he let an ugly electrical substation disappear from his Rotterdam neighbourhood.
(Photo: Roeland Otten.)