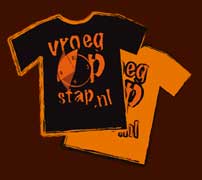 The wave of nannyism that has hit the Netherlands as of late sounds like waves crashing onto the Delta works and then wooshing back into the sea right back where they belong. Famous Dutch weblog GeenStijl (in English, No Style), up again this year (today!) for Best Weblog has finally let the group 'Vroeg op Stap' (roughly, 'Let's party early', as opposed to staying out late) get a word in edgewise, albeit to make them look utterly stupid.
GeenStijl claims that they have been spammed for months now by these Frisian housewives, as they wanted to gain support for their cause: letting their drinking teenagers go out early so that they can come home at a decent time and not sleep in. The problem is that contrary to Dutch society's live and live attitude, they want the whole country to follow suit.
To get a good idea of how GeenStijl pushed that wave back into the ocean, they produced a film showing "one MILF and one non-MILF" handing over the petition to the right politician who then accused them of wasting his time because the petition only had digitial signatures, about 120,000 of them.
Long story short, a big fat waste of time. This is how mommy sinks her own boat and goes down with the ship, kids, watch and learn.
(Link: geenstijl.tv)