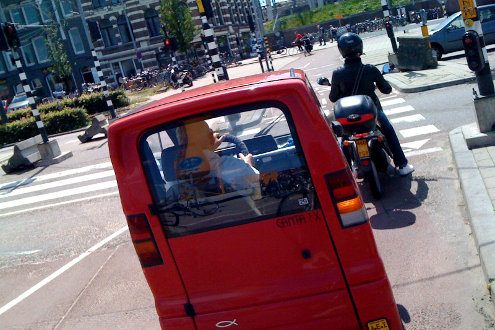 The iconic Canta mobility vehicle is no longer being produced, Volkskrant reports.
Last week the last Canta ever rolled off the conveyor belt at the Waaijenberg factory in Veenendaal. The manufacturer told the newspaper they are having troubles sourcing parts. Especially the moulds are worn out. Waaijenberg will use the few parts they still have for repairs.
Cantas have been coming under fire recently, with the city of Amsterdam wanting to ban them from the pavement. In a bizarre twist and for reasons unknown, the city even tried to take away Cantas from their users, for whom the microcar often means the difference between being able to live a full life and being condemned to wasting away at home.
Cantas are allowed to drive on the pavement, the bike path and the main road. They are made to measure for their drivers. A few are privately owned (and end up on the market), but most are property of the government. They often come in Ferrari racing red, although other colours are possible. In total 4,645 were produced in the past 22 years.
Waaijenberg expect to present a successor later this year.
See also: Canta, the little can-do car
Photo of a Canta on a bike path by Tjerk Zweers, some rights reserved.