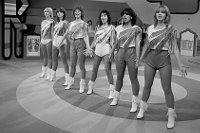 The Dolly Dots were a Dutch girl band from the 1980s with a string of hits. At the height of their success the six singers had their own sitcom, feature film and even their own Barbie dolls which, according to the I'm Like: 'Oh My God!!!' blog, were not very life-like.
The Ria doll at least included her trademark short hair. "All the dolls were hits, except the Ria one […] because it had short hair. You cannot comb a Ken hairdo."
In this video from Avro's TopPop Ria still had long hair—she is the one with the purse:
Having found only one source I have no idea whether this story is actually true, but it sounded too good to have it stay at the Dutch language part of the web.
(Photo by TROS, some rights reserved)