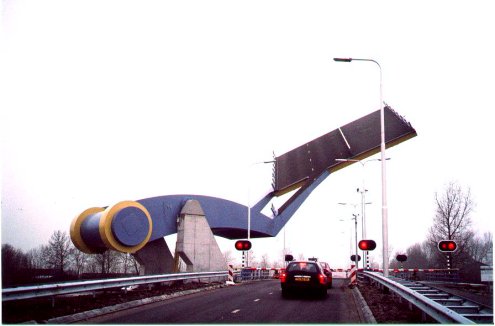 This bridge, which looks likes a huge flyswatter, is in Leeuwarden. It was designed by Bruggenbureau Van Driel and built in 2000 by Ballast Nedam and BSB Staalbouw. The way I figure it, it works as an ordinary drawbridge, except when you're in a hurry, then it'll flip you like a pancake (which is what you'll look like afterwards).
This is the Slauerhoffbridge, named after a local poet. I translated his "Voor de verre prinses" once, but not very well, so I'll just link to it.
Via Jalopnik. Photo by Van Driel Bruggenbureau, used with permission. Much more (and more recent) photos after the links.
Tags: bridges, drawbridges, driving, Leeuwarden, sailing