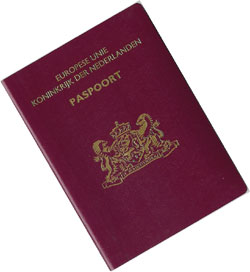 I have no idea why this happens or why this is considered news, but there's this 'game' the print media plays every once in a while which I call "Find the Dutch person" ("Zoek de Nederlander"). Allow me to explain.
Way back when Britney Spears was on the straight and narrow, Dutch Daily De Gelderlander had an article that read something like "Britney Spears has Dutch blood" and went on to explain she had 'family' in the province of Gelderland on her father's side and that made her one fourth Dutch. This was seen as a source of pride.
Then right after Estonia won the Eurovision Songfestival in 2001, the papers said the win was "half Dutch" because Dave Benton was born on the island of Aruba, part of the Kingdom of the Netherlands. This came off more like envy because the Netherlands' last win in the Songfestival dates back to 1975.
And today, popular Dutch newspaper De Telegraaf reports that Tiger Woods has Dutch blood because he is – get ready for this – one eighth Dutch! And apparently he's really proud of being 'multicultural' too. He's about as 'African-American' as Barack Obama is. That was sarcasm.
What's wrong with the Dutch people 'we' (you) already have? As a Canadian, I go out of my way to point out that someone is Canadian or else they will be classified as American or French. Back in 1996 De Telegraaf called actor Leslie Nielsen American and sometime around 2004 some Flemish exhibition centre boasted about the great American singer Neil Young. I couldn't let that last one slide.
Although there are tons of great Dutch people, islands and all who are surely a source of pride, I just cannot understand this identity soul searching. Even Anne Frank was seen a source of Dutch pride although she was German, while the growing amount of populists in the Netherlands are still not sure any Dutch person with a second passport qualifies.