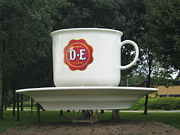 One out of every three Dutch person prefers Dutch supermarket products over foreign ones. But can they really tell the difference? "Absolutely!", 34% of respondents answered. Only 2% of respondents preferred foreign brand products in their shopping carts. The other 64% did not care where their products came from. So what's up with the nationalism at the supermarket? Alexandra Blikman of the firm Deloitte explains (and debunks):
"In a previous survey about Dutch suppliers, many of them feel that there is a market for typical Dutch brand articles. We were surprised of that result and decided to check if that was in fact true. And it is."
One question remains: what is a Dutch brand article? Douwe Egberts has been owned by the America's Sara Lee for some 30 years. The typically Dutch Verkade biscuits and chocolate bars are owned by Britain's United Biscuits, while Iglo was bought by Britain's Permira. De Ruijter and Venz sprinkles are owned by America's Heinz.
If you want to buy 'Dutch goods' you should buy Ben & Jerry's ice cream, Dove soap and Sourcy water. At first glance, the first one is from the US originally, the second probably the same and the last one from Belgium. Or just eat vegetables from greenhouses and you'll be as Dutch as it gets.
People have no clue what they are buying, but do like Dutch looking or sounding goods. If you slap a Dutch flag or some stratigically placed orange banner on your product you may sell more.
(Link: z24.nl, photo: en.wikipedia.org)