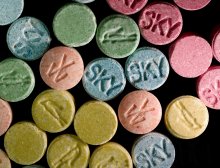 When Jan from Eerbeek, Gelderland noticed last Thursday that his extensive ecstasy collection had been stolen, he immediately notified the police. Even though it is believed that the collection is illegal, the 46-year-old sounded the alarm because he fears some of the pills may be poisonous.
The man started his collection 20 years ago. The last 10 years he has hardly worked on it, according to an article in De Stentor. The collector, who tried ecstasy once but didn't like it, hopes for clemency from the Department of Justice.
"It is a great pity I lost the collection. I would have liked to preserve it for the ages."
Ecstasy pills are often colourful and come in a great variety of prints. BoingBoing moderator Arkizzle explains the magnitude of the loss of the collection of 2,400 pills:
Pill marks in illicit drug manufacturing are lovely ephemeral things, that come and go as the brand is made and fades. Drugs, obviously, don't tend to get saved for posterity, so this collection was probably unique. Also, I understand that owning the stamping dies is legally akin to having forgery plates, so they are unlikely to be reproducible.

I once saw a fantastic exhibition of acid blotters in London; original and reprints. Lots of 'Dead-style artwork, amongst cartoon characters and repeating geometric shapes.
(Photo: DEA. Link: Edmonton Sun / AP / Toby Sterling.)