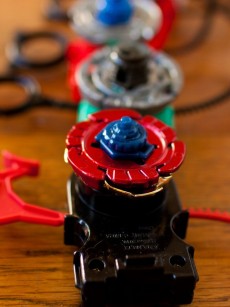 Shopkeepers in the Netherlands claim they were caught completely by surprise by the sudden increase in demand for Beyblades. It has been 10 years since the spinning tops from Hasbro last were playground hits, the print edition of daily Parool reported on Wednesday.
Beyblades are used in 'battles', where tops are launched from a platform (see photo) into an arena. The top that stays up the longest wins.
A possible explanation of the revival may be that Disney channel has started to broadcast the accompanying (and eponymous) manga series again, though at ungodly early hours. Disney's Vincent Berends thinks that 'schoolyard talk' may explain the success.
Earlier this year Jeugdjournaal reported that Beyblades had become the rage again in Japan. There the hype was carefully manufactured.
(Photo by Cielo de la Paz, some rights reserved)