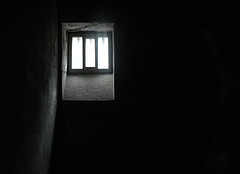 On 7 January 2019, the first ever national championship escape room will take place in Erp, North Brabant and will involve 'an escaped psychopath from Germany'. The goal is to find out what he's planning, find his bombs, and thwart his plans.
According to organiser Joris van den Bergh from Erp, they'll be three preliminary rounds before having a shot at being the winning team. In other words, it won't be a walk in the park. There is room for 22 teams (sign up here until this Thursday), each of which should consist of four or five people. Sign-up costs 200 euro per team.
Since more than 1000 people will be participating, some 32 escape rooms will be used. The best 75 teams will go for the final in an actual castle, the location of which is still under wraps.
One of the last times we mentioned an escape room, it was one based on Anne Frank's life, which raised a lot of eyebrows.
(Link: omroepbrabant.nl, Photo by Aapo Haapanen, some rights reserved)