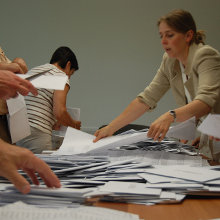 Since we'll probably have to explain this at Christmas parties, shock blog 'Geenstijl', who brought us the crowdsourcing of Dutch European Parliament vote count and blocking the ratification of the EU-Ukraine Association Agreement being ignored by the Dutch government for 238 days so far, has decided to found a political party.
GeenPeil – it rhymes with Geenstijl and refers to polling – promises to set up an Internet app to hold 'microreferendums" for all bills that pass through parliament. "All rank-and-file members of the party will be able to influence how its MPs vote on law proposals, always voting the way of the outcome of the microreferendums.
Like them or not, the fact that Prime Minister Mark Rutte has ignored the results of the democratic referendum prompted by this lot on the EU-Ukraine Association Agreement and possibly passing on the problem to the next government after the 15 March 2017 elections, is really embarrassing and proves that democracy isn't being respected at all.
GeenPeil, has its own issues. Last month, Dutch media reported that the European Parliament has demanded they pay back €14,500 in subsidies. GeenPeil had used the money, which came from the Institute for Direct Democracy in Europe, a body created by Ukip, a British eurosceptic party, to pay for a newspaper advertisement calling on readers to support the Ukrainian referendum initiative for a referendum although the grant was not allowed to be used for national campaigning.
Although the referendum was legally non-binding, senior politicians had promised they would take the result into consideration and it's such a thorny subject that the issue is on the agenda of this month's EU summit in Brussels.
(Link: euobserver.com, Photo by Photo RNW.org, some rights reserved)