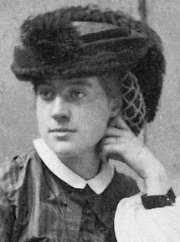 Apart from the Arctics, the interior of Africa was one of the last places left for Europeans to 'discover' and finding the source of the Nile was a major goal for 19th century explorers.
One of these explorers was a woman from The Hague, Alexine Tinne (b. 1835 – d. 1869). Growing up as one of the richest heiresses of the Netherlands in a time when European women were expected to 'know their place', nobody would have batted an eyelid if Tinne had stayed at home and prepared for marriage. But even at a young age Alexine Tinne shared with her mother Henriëtte (a former lady-in-waiting and daughter of an admiral) a thirst for travel.
In 1855 mother and daughter sailed up the Nile for the first time in order to reach Karthoum, but it would take them several expeditions to succeed. In 1861 they not only reached Karthoum but decided to push through to Gondokoro in Sudan (near present-day Juba) and beyond. Gondokoro was known as the last place where the Nile was navigable but Tinne fell ill there.
During an attempt in 1863 Tinne lost her mother, her aunt and two servants; it would be her last voyage up the Nile. Writer Redmond O'Hanlon told Historiek.net that he believes Tinne and her mother wanted to discover the source of the Nile: "that was their goal, I am sure of it." But contemporaries did not approve of women explorers and O'Hanlon fears this is why the Tinne expedition kept schtum about its real motives. Samuel Baker, another Nile explorer of the time, wrote of the competition: "There are Dutch ladies travelling without any gentlemen… They must be demented. A young lady alone with the Dinka tribe… they really must be mad. All the natives are naked as the day they were born."
Tinne, who felt responsible for the death of her mother and aunt, stayed in Africa. In 1869 Alexine Tinne, while living in Tunesia, decided to cross the Sahara. On 2 August of that year her caravan was ambushed by Tuaregs at the wadi of Chergui in what is now Algeria. Tinne was killed with two sword blows and a gun shot.
Although she only reached the age of 33, she accomplished quite a lot during her life. She designed clothes that she wore herself, wrote and drew the source materials for a botanical guide about the plant life in Sudan (the Plantae Tinneanae), started a half-way house for freed slaves and, in between two of her Nile expeditions, experimented with photography.
See also: