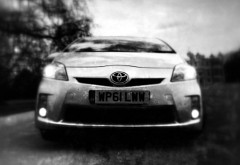 A court ruled that charging stations may be installed at normal filling stations albeit in the free parking area simply because electricity is not fuel. A collective group of filling stations tried to fight off businesses who wanted to install charging stations, but lost. The law on fuel states that filling stations have a monopoly on selling 'fuel' and if electricity isn't fuel, then they can't stop the building of charging stations.
This is good news for electric car owners, and particularly for people who rent electric cars but can't leave the city limits because of the lack of charging stations. Some 250 quick charging station, which claim to be able to charge cars in 20-30 minutes, will soon enough be built to accommodate electric cars on Dutch roads.
Worrying about dropping petrol losses because of hybrid cars is premature, as we told you last year since Dutch Prius drivers use too much petrol.
(Link: www.elsevier.nl, Photo by DaveOnFlickr, some rights reserved)