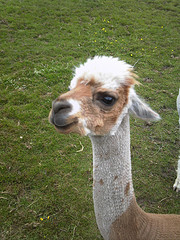 After owning a Ferrari, a Rolex and other gangster shizzle, the new thing to own if you're an Eastern European gangster according to Dutch telly is an alpaca.
Stolen in the Netherlands and surely elsewhere by gangs of Eastern European criminals, alpacas go for anywhere between 200 and 20,000 euro. The caretaker of the alpacas in this Dutch video watches the nocturnal theft from his homes, afraid of being shot by armed gangs. "We just want them back," says the elderly lady in the video who misses the animals.
Criminals or whatever, I do take offense to Dutch journalists use of the word 'Oostblok' (East Block) because in addition to it being a thing of the past, it stigmatises Eastern Europeans, many of which are EU citizens.
(Link: www.hpdetijd.nl, Photo of Alpaca by James Preston, some rights reserved)