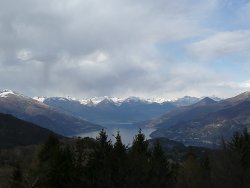 A 56-year-old Dutch woman, Anna B. as she calls herself, was caught smuggling 8 kilos of "very good Dutch weed" into Italy, two years ago. Her lawyer managed to make it so that after a few months she could spend the rest of her 3 year 4 month sentence under house arrest. Friends got her an apartment in what appears to be a very idyllic village in Lombardia, and another stroke of luck made it so that she got two hours a day to go to the supermarket, time she uses to go hiking.
What does one do the rest of the day? Blogging (Dutch), taking pictures, making music, living on the Internet.
The lawyer called to tell me that next Monday, March 5, is the court date where we'll again try and get me freedom of movement within the province between 7 a.m. and 11 p.m.

That's quite a lot.

I really only wanted to sail a boat to the horizon for once. Or walk until I am tired. Or eat the daily special at the daily special restaurant at the top of the hill. Hmmm, nice.
Anna got her extra bit of freedom last week (Dutch).
Photo of Lake Como by ezioman, some rights reserved.