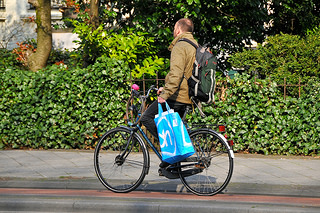 It started off as an fun opportunity for employees of Dutch supermarket chain Albert Heijn in Nijmegen, Gelderland to be the first to sport new uniforms, but quickly turn sour and went viral. Albert Heijn employees, which includes minors, were asked to send in pictures of themselves using an app either in their underwear or 'tight fitting swimwear' to be able to get their clothing size right. The idea behind the inappropriate photos was that an algorithm could decide what size the person needed – why they couldn't just tell their boss what size they were like normal people is beyond most folks.
Albert Heijn quickly stopped it was doing although after the media caught wind of it. Not only is this morally wrong and illegal, it also goes against a bunch of privacy laws like the GDPR. The chain is calling this 'a misunderstanding', with, if I read correctly, the shop manager blaming head office and head office blaming the shop manager and their communication. The shop manager apparently told employees sending in the pictures was "essential and obligatory", while Albert Heijn's head office said it was "voluntary". The thing is, when a boss who has power over you tells you something is essential and obligatory you do it, and if they say it's voluntary, you also do it because it's your boss asking.
The Dutch Data Protection Authority called this "bizarre", saying Albert Heijn had no grounds to ask or oblige their employees to provide such pictures, since employees are never in a position to give consent without being under pressure, which goes against the GDPR for starters.
(Link: tweakers.net, Photo of Albert Heijn bag by FaceMePLS, some rights reserved)