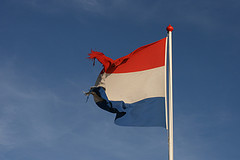 The Dutch media probably chose today to make punny headlines about Laura Dekker who won't become the youngest person to sail solo around the world because the Guinness Book of Records scrapped the distinction in 2009. However, back in 2009 (PDF) she had already mentioned she didn't care about the record:
"Q. Is the record to become the youngest solo sailor very important to you?
A. It's not the most important, it's a nice addition. I have a dream and a very strong desire to do this."
It's amusing to see the Dutch Twittersphere make such a big deal about old news, claiming the 'dumb cow' should have gone to school like the rest of them. Of course, we also assumed she'd hopefully break a record, no matter what you call it.
According to Radio Netherlands, "Guinness World Records have decided to abandon the category of "youngest" in its list of world records. Their argument is that they do not want to encourage, discourage or support inappropriate record attempts by minors. On those grounds, they therefore refuse to acknowledge any achievement by the youngest person to sail around the world."
And no matter what, whether there was a party or not at the finish, whether child services will haul her and her father away, one thing remains: she hates her nationality and will probably move to New Zealand and trade the 'dumb cows' in for sheep.
(Link: www.hartvannederland.nl, Photo of Dutch flag by Guido, some rights reserved)