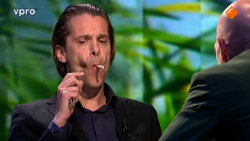 Dutch television chain VPRO was fined 600 euro last Sunday for letting heavy smoker and comedian Hans Teeuwen smoke during an interview. The VPRO hosts a summer filler chat show called 'Zomergasten' (summer guests) that features long, in-depth interviews with celebrities.
If the VPRO lets someone smoke again and gets caught, the fine could go up to a maximum of 4500 euro.
What if someone smokes during a play or a while making a movie? And as I write this, the media is still figuring out who will get the fine, the studio owner or someone of the VPRO.
All I know about Hans Teeuwen is that he dared perform in English
(Link: nos.nl. Photo: screen capture of VPRO's programme.)