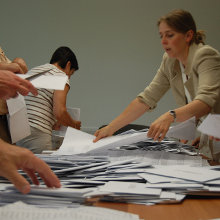 As if trying to change things for the better by voting wasn't appealing enough, some Dutch cities have come up with amusing ways to convince their residents to vote tomorrow in the Dutch general election.
Hilversum is going to give people a condescending-sounding 'voting diploma', as if they were children learning how to swim, but swiftly make up for the condescension by giving them a free bluetooth speaker, so they can annoy people in the train during their commute.
In the village of Losser, Overijssel, they thought it would be a good idea for the mayor to get into a limo and pick up people all day long to go and vote. The goal is to encourage first time voters aka young people to vote, so apparently those questionable music videos have been sending the right message all along.
The big cities like Amsterdam, Rotterdam and The Hague will use schools as polling stations to get the kids to do their civic duty by them not having to go far to vote. No limos for you!
And then if cycling, walking and rocking the limo isn't doing it for you, there's always taking a boat to the polling station in the region of Marker Wadden north of Amsterdam, which, I can tell you from personal experience, is an absolutely delightful place to visit by boat.
And then if transport and a bluetooth speaker is not your jam, imagine some good old-fashioned cupcakes, tea and coffee in Zeist, Utrecht, accompanied by live piano music. The goal here is to attract older voters that need to make an extra effort to vote. No transport for you.
Half of 24oranges HQ can vote and the other half will just hope for the best.
(Link: binnenlandsbestuur.nl, Photo by Photo RNW.org, some rights reserved)