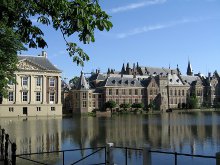 According to the Washington Post, the Netherlands went without a government for 207 days in 1977.
That record was recently broken by Iraq. At least Iraq has an excuse: it is being occupied by a militarist pseudo-theocracy that is after its oil reserves. (Still, you have to wonder why it would take a puppet regime so long to form.)
Following the Washington Post's definition (the period "between holding a parliamentary election and forming a government"), the Netherlands has now been 115 days without a government, but looking at the current formation talks there is hope yet that we may regain our old record.
Indeed, the caretaker government found out recently that not having any power at all can be a very powerful thing. When they had to get their budget approved, almost nobody protested. Nobody wanted to give up their chances of becoming a government party by alienating the parties in favour of the budget.
I don't know why 1977 was such a troublesome year, but in more recent times the forming (and then holding on to) of coalitions seems to have been troublesome because of the wide spectrum of political parties that have come to fore in the last decade. Before that (and since time immemorial) there have been three major political blocks, the social-democrats, the liberals and the Christians. Those three could always form a viable coalition with a clear majority in parliament, and now they no longer can.
(Photo of Dutch government buildings in The Hague by Patrick Rasenberg, who released in the public domain)