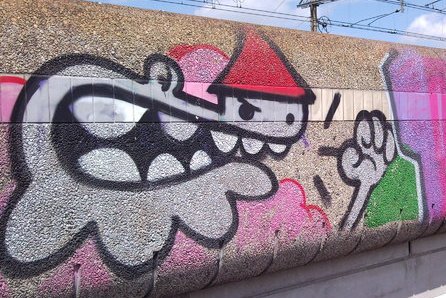 The past years these depictions of angry gnomes have been popping up all over Utrecht, and now people are comparing the artist's work to that of the Keith Haring.
The artist goes by the name KBTR, 'kabouter' with the vowels taken out. Kabouters are a type of gnome typical for the Netherlands which look like garden gnomes or like original depictions of leprechauns, i.e. fellows with pointy hats and long flowing beards but not to be confused with "hipsters" or "freds".
As the video shows, one guy managed to get two private kabouters by leaving a couple of crates of beer and a mention of when he would be away on holiday at a local bike shop. More of KBTR's work can be seen at streetfiles.org. To me, the kabouters of KBTR have a distinct likeness to Belgium's angry cartoon gnome Kabouter Wesley.
(Photo by Aarnoot, some rights reserved)