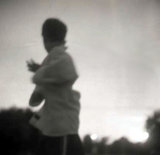 Lisa Coolen (15) from Heel in Limburg shattered the world record for the highest martial arts kick on 12 May.
She managed to kick 2.35 metres high with a Mai Tobi Geri ('jumping front kick').
The previous record stood at 1.98 metres and was held by actress and martial artist Zara Phythian from England and by Bhawna Purohit from India.
Karateka Lisa Coolen broke the record at Kick for Hope, an event raising money for cancer research. Earlier that day taekwondoka Malissa Doppenberg from Urmond, also Limburg, had already improved the record to 2.20 metres.
The record for martial arts high kick unassisted for men stands at 2.94 and is held by Jesse Frankson from the USA.
(Link: Kick for Hope. Photo by Flickr user Thedianna, some rights reserved.)