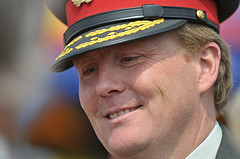 Yet another Dutch Facebook page has recently made its online entrance, and this time it's roughly called 'No king without a beard' ('Zonder baard, geen koning').
Crown-Prince Willem-Alexander soon to be the country's first king since 1890, will be the only one without a beard if he doesn't grow one soon.
Besides the fact that beards were trendy for Dutch kings in the 19th century and the fact that beards are totally in at the moment, the photoshopped picture of Willem-Alexander with a beard is quite flattering as it slims down his pudgy face. At 100,000 likes, the page admins will present the RVD (Netherlands Government Information Service) with an official request for the future king to grow a beard.
Amusingly enough Tsar Peter I (aka Peter The Great) of Russia in an attempt to force Russian men to look more European imposed a beard tax in the late 17th, early 18th century: "Peter's visits to the West (which included the Netherlands) impressed upon him the notion that European customs were often superior to Russian ones. He commanded courtiers and officials to cut off their long beards and wear European clothing. The men who sought to retain their beards were required to pay an annual beard tax of one hundred rubles."
Mustaches were OK though and it seems that trends change from one century to the next.
UPDATE: Beard tokens, based on the one carried by beard tax payers, are in and you can buy them online (tip: TheBloodTheSweatTheBeards). The Russian inscription 'деньги взяты' literally means 'money has been taken', and the letter 'я', ('ya'), the backwards 'R' but with an extra leg on this medallion was in fact turned into the backwards 'R' when Peter The Great reformed the alphabet in 1917-1918.
(Links: www.hpdetijd.nl, www.lindamagazine.nl, Photo of Willem-Alexander by FaceMePLS, some rights reserved)