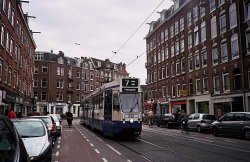 Last Sunday a group of thugs who were sharing a building complex in the Kinkerstraat in Amsterdam with a group of squatters drove out the latter with the use of force, wounding three of the squatters. At the end of the fight, the police installed the squatters back in the building, and arrested 14 members of both groups. One of the squatters was taken to a hospital with a double fractured jaw.
The squatters told Parool (Dutch) that the thugs spoke Russian with each other and partly consisted of builders that were staying nearby. Quote thinks (Dutch) that the owner of the Vinkzicht buildings, Cornelis Komen, may have paid the thugs to drive off the squatters. Komen denies the allegations.
The buildings have had no designated use since 1972 until Komen bought the six buildings in 1999 for 1.6 million euro each, with the plan to wreck them and build a hotel in their stead. That plan came under heavy fire from the neighbourhood, which managed to convince city hall to declare the gables monuments.
The top floors of the buildings are rented out in so-called anti-squat constructions where a tenant gets a short-term lease typically at a low price. Sometimes, you can score magnificently large housing this way for a price way below the going rate of the average shoebox an Amsterdam resident calls their castle, though I hear that with the housing shortage in the city even the anti-squat rates have gone up.
Squatting is mainly legal in the Netherlands (albeit often frowned upon) because of a constitutional right to domestic peace. The police may not invade your home, even if your means to acquire the home may have been less than legal. The house owner must then go to court and prove they have a pressing need with their property to get the squatters evicted. Neighbours tend to prefer squatters over slowly decaying houses.
It's been a while since I've heard of thugs being used to evict people. The university grapevine in Nijmegen had stories of students being evicted this way, but I cannot remember a single proven one.
This is one of those stories that spawns two new questions for every answer you find, so I'd rather field any actual questions our readers have.
Totally off-topic: many congratulations to Orangemaster for getting her Dutch driver's license! Wootalicious!
Link: Radio Netherlands, the only medium I could find so far that thinks the fight was between two groups of squatters.
(Photo of the Kinkerstraat by Wikimedia user Ilonamay, some rights reserved)
Tags: crime, housing, journalism, landlords, squatting, thugs