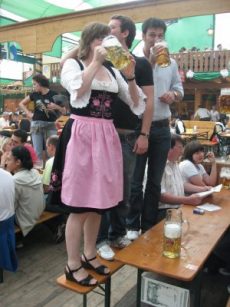 At the start of the summer, we told you about Americans trying to sing Dutch summer hit 'Drank & Drugs' ('Booze and Drugs') by Lil Kleine & Ronnie Flex. Now it's time for the next level, the German version 'Stoff und Schnaps' ('Drugs and Schnaps'), complete with lyrics and bouncing ball.
Ronnie Flex says he'd love to more songs in German because there's "a market of 70 million people!" Actually, 80 million, but we get it, it's not the Netherlands with its puny 16.8 million and a language dwarfed by German on the world scale as well.
The big question is, how's their German accent?
(Link: nieuws.nl)